Water
Footprints on water – along an ordinary road on this day alive like rain – all those events of turning leaves.
Looking back – these fossils of shells in a dying universe are eyes witnessing the rising of a new ocean in a blue sun.
Transoceanic – sharing my vision in the moment of unknown glamour – begging to see the moment – to be with Her on the street level - the wild and beautiful. Or flying like Hanuman holding the sun in his armpit, it's a monkey expanding – into a sea of fiction in the belly of a green fish.
Those moments all come true, lying on my bed in Welcome Hotel in Mumbai with a broken toe. This body only might change, sparkle, live or die in Kabul or Europe.
Dawn in Kumbakonam – my hands and arms coloured yellow by Turmeric root – adoring Ganesh's ambient elephant head. Fifteen times we have done the Ganapathi greeting, grabbing our ears crosswise bending and stretching our knees, knocking sense into our heads with our fists. One more temple – It's enough now go and take some idly, he says. Your own consciousness shining void – no birth nor death, no season of Sun and Moon.
It's a Musical weather in our Swedish garden after breakfast; juice, müsli, yoghurt, bread with butter and feta cheese and tea. Butterflies over the flower bed and green grass heal my eyes of Red and Blue stories.
They circle each other like a double star, the one body of pure form - empty - holding the other dancing with life.
This art is especially mad, like holy Ganga water mixed with wheat flour and newspaper – The Times of India turns into birds and gods – my Tribute to a Chapati artist – following the gaze of the Swan watchers into life´s own stream - television, radio, broad band, dinner, painting and more paintings, more every day life – washing my hands and feet in the mist of Gomorra´s tango. I hold my breath, consistently seeing Her face.
Moving freely under the sea – this breath a question, question asks the breath – you transform all life in me.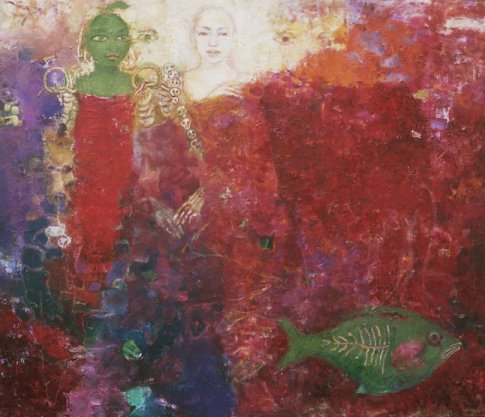 VELKOMMEN TIL VERNISSAGE
Lørdag den 21. november 2009 kl. 12-15
Olie malerier
ARNE PJEDSTED SALOMONSEN
GALLERI TONNE
Kristian Augustsgt. 12, 0164 Oslo
Åpningstider: mandag-fredag 10-17
lørdag 10-15 søndag 13-16
Tel. 22 11 12 11 / 22 11 12 12
Utstillingen varer t.o.m. lørdag den 5. december